Green shutters, Williamsburg County, S.C.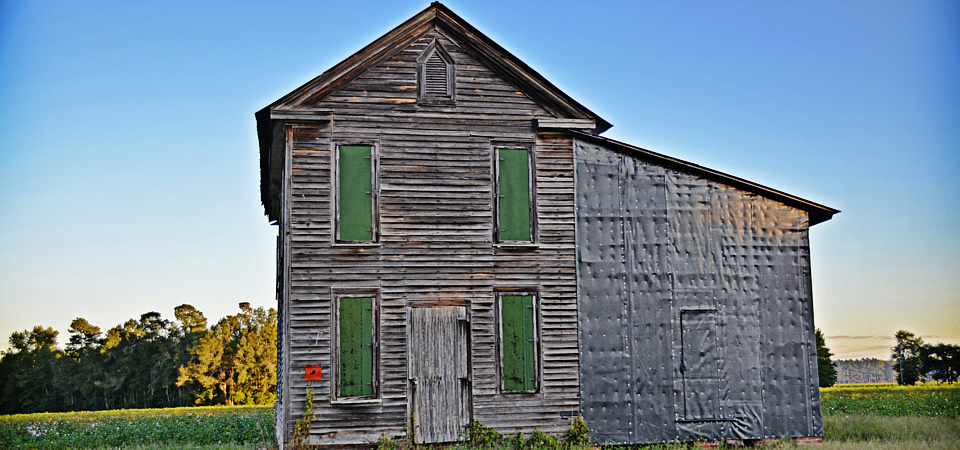 Former editor Linda W. Brown found this old building with fastened green shutters near Workman Crossroads in western Williamsburg County, S.C.
UPDATE:  We first ran this picture on Oct. 1, 2013, and offer it today to steer you to a brand new section of the BEST pictures of the Southern Crescent project.  Click here and you can find more than 30 of the most compelling images that we've offered since we got started more than 18 months ago.
"I'm not sure if this was an old store that had a shed added to it or exactly what its function was," Brown wrote.  "I think it's a pretty cool old building, whatever its purpose was earlier in its life."
We wholeheartedly agree.  Old buildings like this can be found across the rural South on farmland that has gone fallow and where tenant families moved on a generation or two ago.  Or in small towns near railroad tracks that no longer carry trains.
Just under 34,000 people live in Williamsburg County, which is about the number who lived there in 1900, according to Census figures.  Population peaked in 1950 at 43,807, but has dropped slowly since then.
About two-thirds of county residents are black, with almost  all of those remaining being white.  Only 2 percent of those in the county are of Hispanic descent.  Some 32.8 percent of residents live in poverty, according to the Census.  Of the county's 1,921 firms, 36.5 percent are black-owned — a percentage that is three times South Carolina's average.
Copyrighted photo taken on Sept. 27, 2013 by Linda W. Brown  All rights reserved.