Leo Fishman, 1938-2016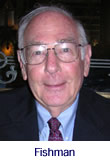 We're saddened by the death this week of founding director and board secretary Leo Fishman, who died Jan. 12 at age 77 in Charleston, S.C.
Born in 1938 in Brockton, Mass., Fishman was a tax lawyer who retired to the Lowcountry with his wife, Carol, after a successful career in Washington, D.C.  Always involved in civic affairs, Fishman served a term as as president of the Charleston Symphony Orchestra board of directors and was  a councilman and former mayor pro tem for the Town of Kiawah Island, S.C.
Fishman served two years in the U.S. Marine Corps before attending and graduating from Harvard College (B.A., economics, 1961) and the Georgetown University Law Center (J.D., 1964). Later, he worked with local communities in the Southeast as an administrator in President Lyndon Johnson's War on Poverty. In his law practice, he represented a variety of nonprofit, tax-exempt organizations.  He retired in 1996.
"Simply put, they don't make 'em any better than Leo," said founding former director John L.S. Simpkins, a former law professor and now a lawyer with the U.S. Agency for International Development.  "A Marine, lover of the arts, fighter for social justice, intellectual, and all-around good guy, Leo made everyone around him better for having known him. I consider myself grateful to have been in that group and cherish our all-too-brief interactions.
"The world needs more Leo Fishmans."
Center Chairman and President Andy Brack agreed:  "Leo embraced the need for the 'common good' in our democracy.  Full of ideas and verve, he pushed people to do what is right and best in our communities.  Our hearts ache at his passing, but will remain strong and inspired by his intelligence and example."
Fishman was buried in his hometown on Thursday.  To read an obituary, click here.
Leo Fishman, 1938-2016.  Rest in peace.