Center to lead Promise Zone team to Ohio for leadership training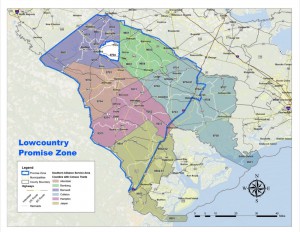 OCT. 19, 2016  |  The Center for a Better South this week will lead an eight-member team from Allendale and Hampton counties in the S.C. Lowcountry Promise Zone for leadership training offered by the national outreach group NeighborWorks America.
The training in Columbus, Ohio, will focus on ways that neighbors can work with neighbors to build communities at NeighborWorks' invitation-only Community Leadership Institute.  It offers three days of meetings to support local leaders by helping them to sharpen abilities and to discover new tools and initiatives to succeed at home.
Among those attending (in alphabetical order) are:
Andy Brack, president of the Center for a Better South;
Georgia S. Cohen, Allendale leader;
Larry M. Crapse, Hampton consultant;
Faye H. Gooding, CEO, Le Creuset of America in Hampton County;
Michelle Knight of the Lowcountry Council of Governments;
Dorothy Riley, Allendale leader;
Shekinah Washington, executive director, Allendale County Alive;
Nikki Williams, executive vice president, EdVenture Children's Museum, Columbia.
"This is a phenomenal honor and opportunity for members of the team to learn leadership and economic development lessons from national experts and bring lessons home to implement," said Brack.
The team's state sponsor is the S.C. Association of Community Economic Development, based in Charleston.  The Center is a member of SCACED, which also is a NeighborWorks partner.
"SCACED is excited about the partnership with our member and the leadership it is taking in the Promise Zone," said SCACED President and CEO Bernie Mazyck.  "This delegation is designed to represent South Carolina and bring some of the best practices in community economic development back to South Carolina."
###