S.C. Promise Zone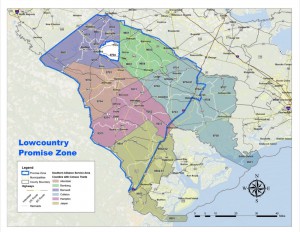 The Center for a Better South continues to be a key player in development of the S.C. Lowcountry Promise Zone, all or parts of six counties in South Carolina that were designated an area of special attention by the federal government in 2015.  Some milestones:
In 2014 through its S.C. Work Group, the Center identified the opportunity for applying for a Promise Zone for Allendale, Bamberg, Barnwell, Colleton, Hampton and Jasper counties.  It approached SouthernCarolina Alliance, a regional economic development nonprofit, to support and lead an application.  The Alliance, in coordination with the University of South Carolina, the Center and other groups, coordinated more than 30 local and state groups to make the application in November.
In late April 2015, the Obama Administration announced that the South Carolina application won and the region became the nation's second rural Promise Zone.  During the rest of the year, the Center:
Outlined a model for how Promise Zones could work;
Organized and held a town hall meeting in each of the six counties in the Zone.  More than 650 people attended.
Coordinated with SouthernCarolina Alliance on meetings with partners and supporters, and worked to help craft a strategic vision for the Zone.
Helped to publicize and communicate successes for the project.
In 2016, the Center held a conference in late January that brought in a dozen big thinkers and leaders to learn about the Promise Zone and provide critical input on how the collaborative effort could be maximized to benefit people and reduce poverty.